In 2018, almost 10 million passengers passed through Iceland Airport on business, to enjoy a vacation, or visit family. It is the country's main international airport and the gateway to the land of fire and ice for most of the globe.
If you are planning a trip to Iceland, unless you are taking a long boat journey, it is inevitable you will pass through this airport.
It is much like any other airport in Northern Europe and provides many of the same services and transport options. But don't expect a metro/subway system like other European countries and it might not be in the city you think it is.
So, if you are visiting Iceland soon, read this airport guide to find out everything you need to know before you travel.
Where Is Iceland Airport?
Many think that Reykjavik Airport is Iceland's main international airport since that is the country's capital city, but it isn't. Reykjavik Airport (RKV) is where most of Iceland's domestic airports fly from.
But, Keflavik Airport (KEF) is the main Iceland Airport for international flights.
It is 31 miles/50km southwest of Iceland's capital and it has two functioning runways (three in total). Icelandair is the airport's main airline carrier but there are around 30 airlines that operate from the airport. The US military first built the airport in 1942, but the airport has changed and developed a great deal since then.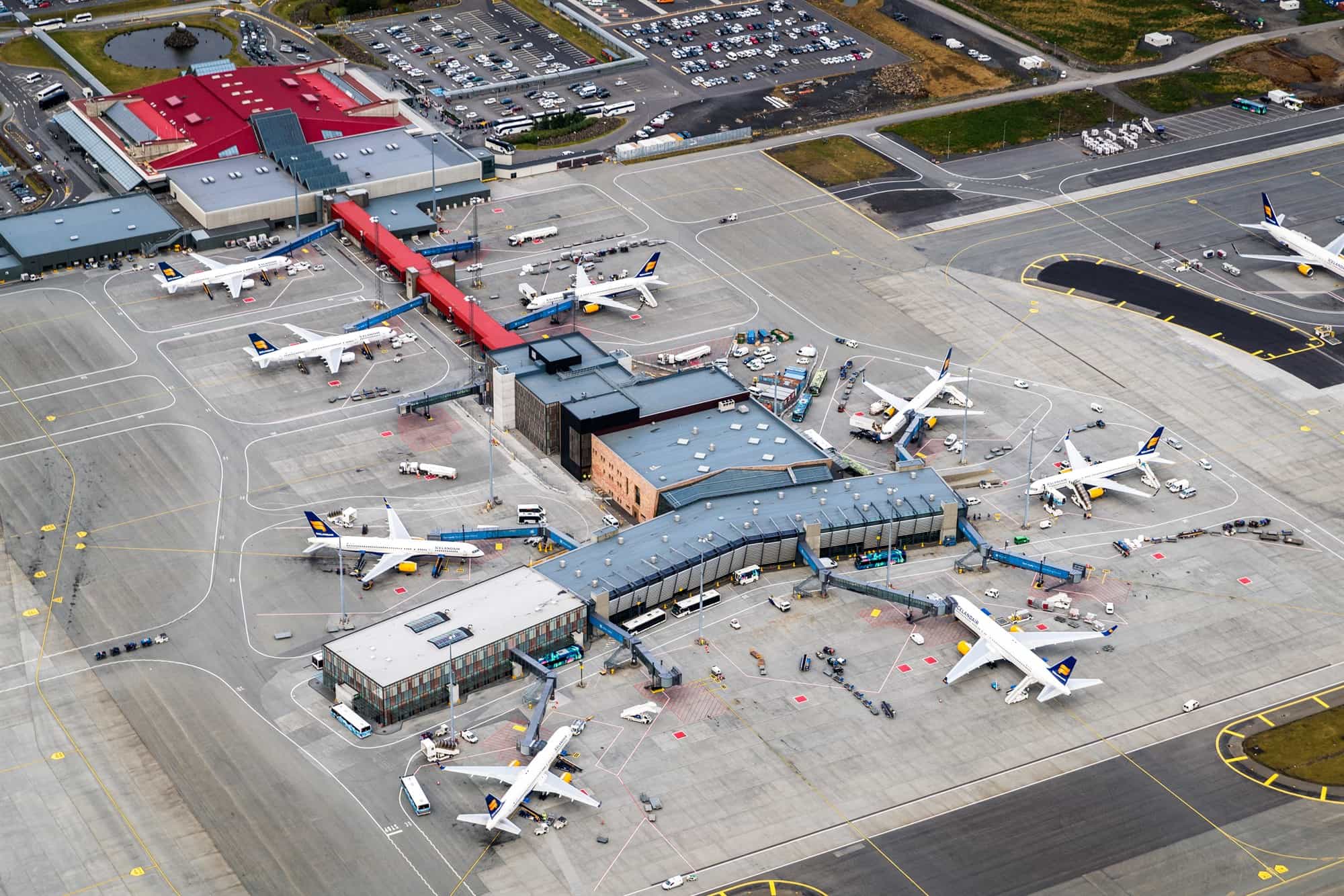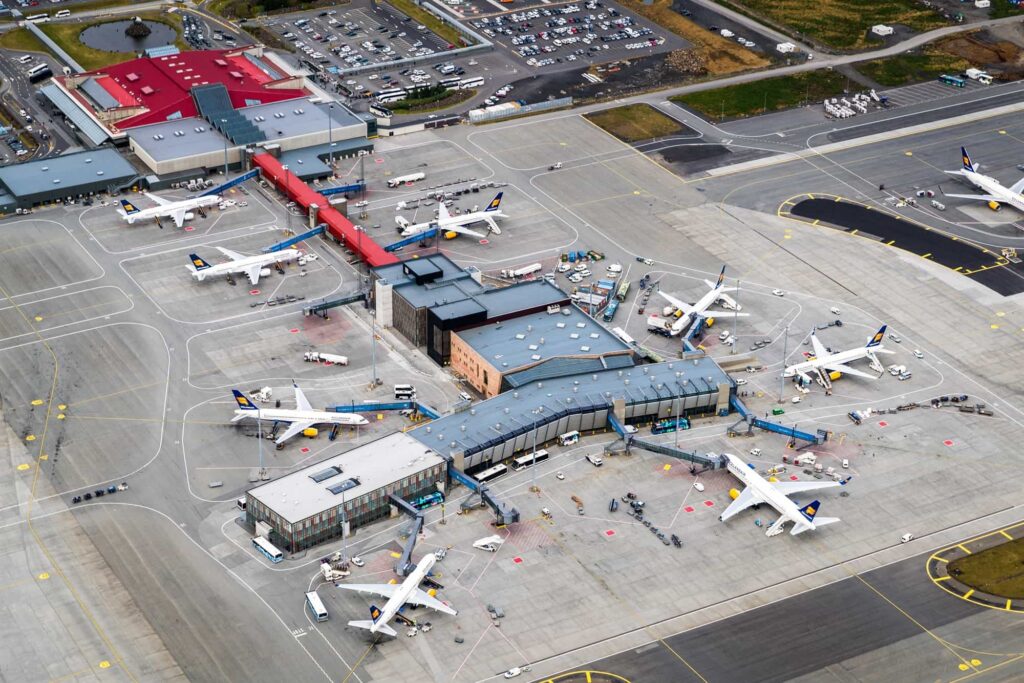 Shuttle Buses to and From Keflavik Airport
Because it is an out-of-city airport, Keflavik Airport is well connected to Reyjavik and beyond. The two main shuttle bus providers are Flybus and Airport Direct. Their bus stations are outside the arrivals exit and there is always a bus to Reykjavik departing 30-45 minutes after flight arrivals.
The bus journey from Keflavik Iceland Airport to Reykjavik is around 45 minutes. You can book your tickets in advance online, or you can pay when you arrive. There is no fixed schedule for the bus departures, so you do not need to worry if your flight is late.
There is also a public bus service (Strætó) which travels to and from the airport at select times.
Car Rentals and Taxis at Keflavik Airport
Instead of waiting for the shuttle bus to get to downtown Reykjavik, you could opt for a car rental straight from the airport. This is the only option if you want to venture on a road trip around Iceland's Golden Circle route.
There's so much more to Iceland than Reykjavik, so it's worth booking one even for part of your trip.
Keflavik and Reyjavik have around 40 car hire companies, so there are plenty to choose from. Make sure your car hire company offers studded tires in the winter (like we do) and advice for driving in Iceland.
You could also hop in a taxi after your flight as there are taxis available from the arrival exit 24/7. Five taxi companies service the airport and always check the fare before you start your journey. This is an expensive option as most taxi journeys to Reykjavik from the airport cost around ISK 21,500/$170.
Car Parking at Iceland Airport
Like many airports around the world, Iceland Airport has short-stay and long-stay parking options. If someone is dropping you off at the airport and they stay less than 15 minutes, parking is free. After that, the first hour is ISK 500/$3.91 and every extra hour is ISK 750/$5.86.
If you want to leave your car at Keflavik Airport longer than a few hours, you should book in advance for the best prices. Then, you have the email ticket which you can use to scan in and out of the airport parking.
Shops and Services at Keflavik Airport
Since Keflavik Airport has one passenger terminal, all the shops and restaurants at the airport are available to everyone. Here are some of the food stores, bars, and restaurants in the terminal:
Joe and the Juice (cafe)
Loskins Bar (bar)
Mathus (deli)
Segafredo (cafe)
Kvikk Cafe (cafe)
Hja Hollu (pizzeria)
10-11 (food store)
Nord (restaurant)
And the airport offers over 66,000 tax-free items in its duty-free stores. You can buy last-minute gifts at Rammagerdin, which sells traditional Icelandic knits, vases, and holiday decorations. Or, you could grab some Blue Lagoon skincare products packed with purifying minerals.
Transfers to the Blue Lagoon Near the Iceland Airport
Speaking of the Blue Lagoon, it is a UNESCO Geothermal spa and one of Iceland's premier tourist attractions. It also happens to be far closer to the airport than it is to Reykjavik. It is only a 20-minute drive from the airport and 50 minutes from the capital city.
So, many visitors chose to stop off at the Blue Lagoon when they arrive in Iceland or on their way back to the airport.
Most of the airport bus shuttles stop at the Blue Lagoon between the Iceland Airport and Reykjavik, so that is likely not an issue. But you do need to book your tickets to the Blue Lagoon in advance.
And, you will also need to make sure your swim gear and cameras are at the top of your suitcase so you can access them for your pre or postflight swim.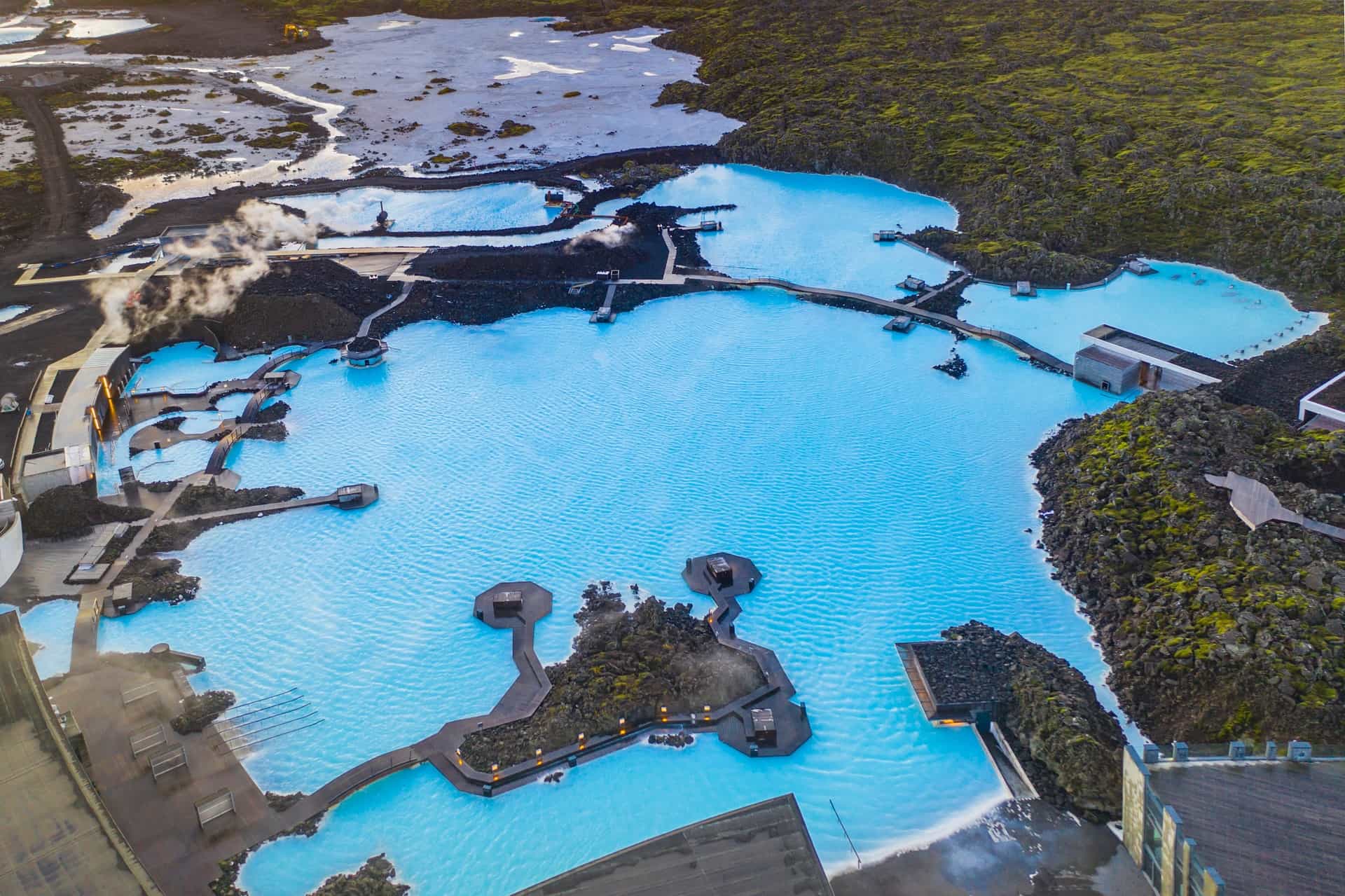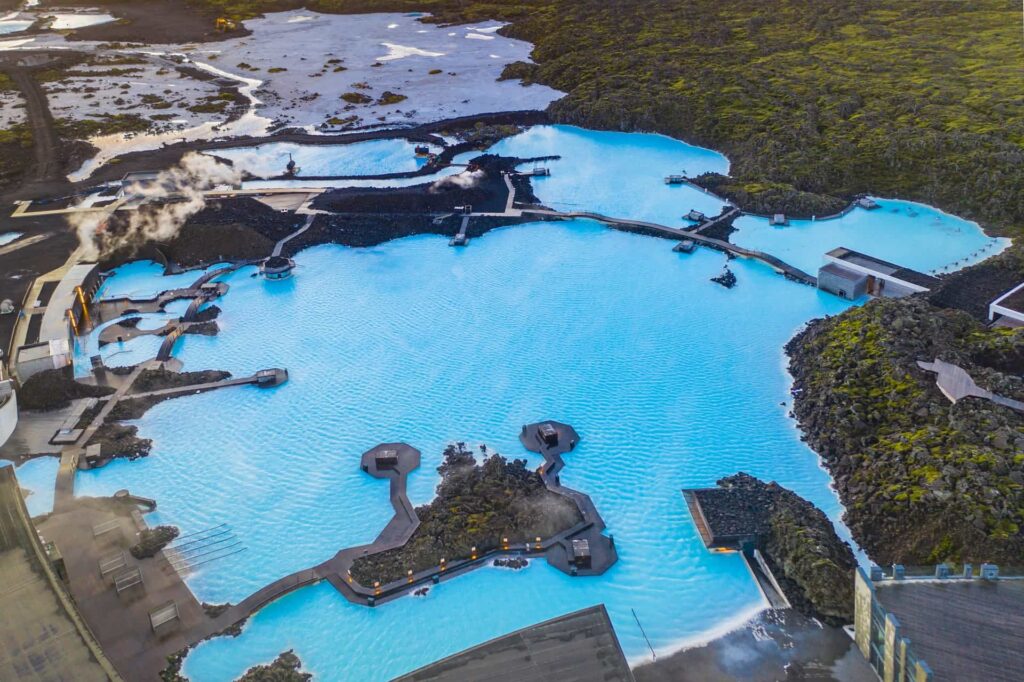 Arriving and Departing at Keflavik Airport
Like any international flight, it is important to arrive at Keflavik Airport around two to three hours before your flight. This is so you have enough time to get through security checks and sort out any other issues.
Early mornings are peak flying times, so aim to arrive three hours before these flights. Iceland is a popular international destination and a busy transfer airport so expect queues.
Book Your Car Rental From Iceland Airport
Keflavik Iceland Airport might be a small airport at only 10 square miles, but it offers passengers everything they need and more. And while it is not the most convenient airport to reach in Europe, it is very well-connected.
You could make traveling to and from Keflavik Airport much easier by hiring a car for your Iceland trip. Circle Car Rental offers a range of new vehicles and 4X4s suited to your travels in Iceland whatever the season.
Contact us today with your questions about our cars, policies, or queries about driving in Iceland.