Iceland is a place known for its unique beauty – from otherworldly landscapes, black sand beaches, to lava fields, and glaciers, you will find it all here. Visitors are so enamoured by these dramatic contrasts that it's impossible not to want to try and experience them all. If you are seeking a memorable trip, you need to steer off the common touristy destinations and seek out the unique things to do in Iceland.

---
9 of the Best Unique Things to Do in Iceland
Whether it is your first time or you're looking for a new experience, there are a few unique things to try on your visit to Iceland.
Dog Sledding
Not too many people can say they've tried dog sledding. Don't miss out on this opportunity when you visit Iceland as it's one of the less popular activities but definitely something that's worth a try. 
Dog sledding is a year-round activity in Iceland: you can do it on dry land or over icy fields. If the conditions are right, you might even be able to dog sled over the glaciers. This is also a recommended activity for the dog lovers out there! It's a unique way to sightsee in Iceland and indulge in its dramatic landscapes.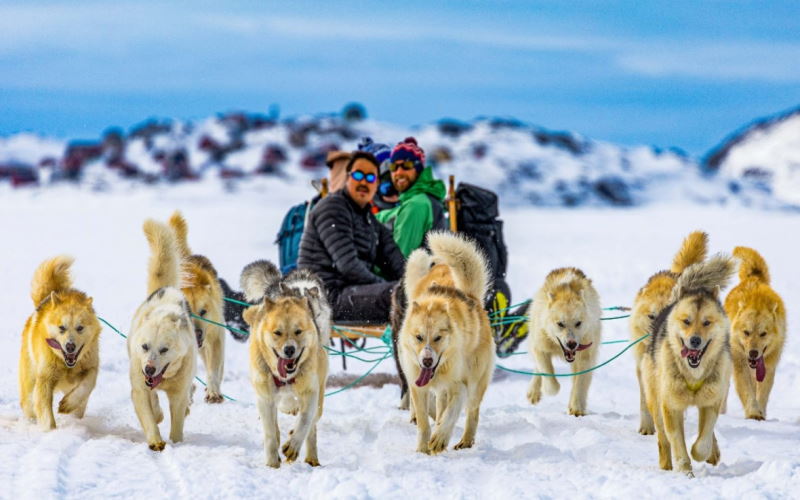 Horseback Riding on a Lava Field
This is another year-round activity that you can enjoy in Iceland, however, you can try it during the midnight sun for a more magical experience. The Icelandic horse is an iconic figure in the country, and you can grab the chance to ride one of them to go sightseeing. 
Horseback riding has its own unique appeal, but Icelandic horses are known for being shorter than most horses and for their extra gaits. Thus, it is also recommended for those who are new to horseback riding since the experience is more gentle and pleasant. 
Midnight Sun Glacier Hiking
There is an endless array of activities you can engage in during the midnight sun in Iceland. However, nothing beats the unique experience of glacier hiking. You can participate in midnight sun glacier hiking tours or do it yourself. Either way, you are in for a surreal experience.
The conditions during the midnight sun are perfect to soak in the most gorgeous views during your hike. The days do not get dark and the breeze is cool. Plus, you can witness a unique sight of sunset and sunrise mixing in the horizon. Don't forget to bring your cameras with you!
Explore Ice Tunnels
Ice tunnels are one of the most incredible yet not yet vastly explored destinations in Iceland. One of the best ones to visit is one that is carved from Iceland's second largest glacier – Langjökull.
This ice tunnel spans several hundred meters and is open all year round. This man-made ice tunnel first opened in June 2015 and is slowly becoming a popular attraction. Yet, many visitors still miss out, especially since there are plenty of other equally stunning attractions that Iceland has to offer. You can get the chance to go as deep as 200 meters into the glacier and be in awe by the stunning blue light in the ice.
Explore Ásbyrgi Canyon
The Ásbyrgi canyon is another less known destination in Iceland but still just as stunning as other more popular attractions. This canyon is shaped like a horseshoe with cliffs of up to 100 meters in height (from the canyon floor). The canyon itself is 3.5 kilometers long and 1 kilometer wide. 
You can explore a small pond surrounded by lush trees at one end of the canyon. There is also a distinctive rock formation, known as Eyjan, which is visible at the center of the canyon. This canyon is a photographer's dream as it is rich in its collection of various formations including cliffs, plateaus, and vegetation.
If you're into camping, you might also want to set up camp in the canyon. This attraction is open for visitors all year round.
Explore the Inside of a Volcano
Known as the land of ice and fire, there are plenty of volcanoes in Iceland! But how many people can say they were able to explore it from the inside? You can do that when you visit, and it's one of the most unique things to do in Iceland. 
Þríhnjúkagígur volcano is located south of Iceland and has not erupted since the second century BC. This makes it possible to explore it from the inside of the magma chamber! The chamber is approximately 213 meters deep with a specially constructed elevator to make it easier to go down and explore. You can book a tour to visit this volcano too!
Be Awed by the Colorful Mountains of Landmannalaugar
There is no shortage of magical landscapes in Iceland and Landmannalaugar is one of them. This attraction features multicolored mountains along with other natural wonders such as hot springs, crystal clear lakes, and trails of lava.
The mountain is made up of rhyolite, which is responsible for its distinctive color. The mineral-rich lava creates a colorful display as soon as it cools. The best time to visit Landmannalaugar is in the summer. It is impossible to access the roads leading to Landmannalaugar during any other time of the year.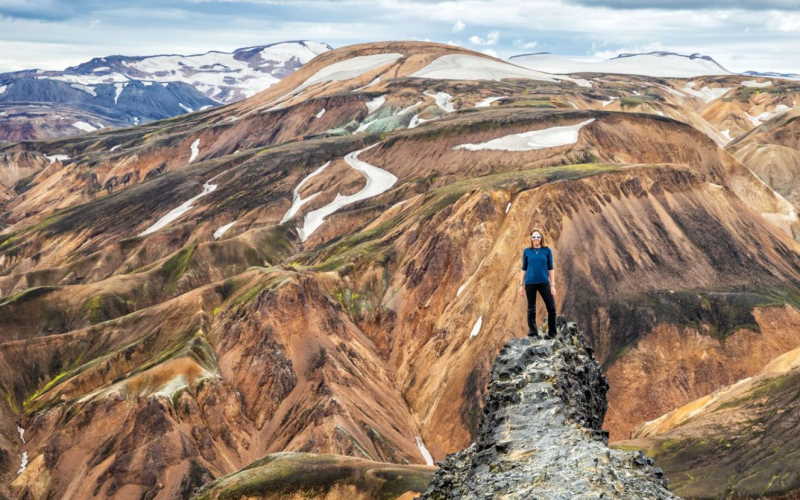 Hike the Scenic Arnarstapi
Hiking is a year-round activity in Iceland and there are innumerable destinations for a spectacular walk. One of them is Arnarstapi. This is a natural harbor in Iceland, and a scenic one at that.
The most noticeable features in Arnarstapi are its cliff formations and basalt columns. There is also a small fishing village. Since it is not yet flocked by tourists, it is a great option for those who want to avoid the crowd. During your hike, don't forget to visit the giant rock statue of Bardur Snaefellsnes. This statue commemorates an iconic ancient Icelandic character. This statue also marks the starting point of your scenic walk.
Glacier Kayaking
It's not completely unique, but it's one of the activities that is often overlooked by tourists who seek out Silfra snorkeling, whale watching and other more popular water activities in Iceland.  If you're into kayaking, it's a completely different experience and is a must-try. 
One of the best experiences for glacier kayaking is at Breiðamerkurjökull glacier. Kayaking lets you see the glaciers from a new angle and up-close too! If you're lucky, you might even stumble upon the friendly seals.