Do you want a unique Icelandic vacation experience?
Iceland is one of the most enchanting, magical destinations in the world. With its rugged, wild terrain, there are few other places with such ethereal beauty and connection to nature. But to make the most of this breathtaking landscape, you'll need to go off the beaten track.
Keep reading for our guide on these 7 unique things to do in Iceland that will give you a trip you'll never forget.
1. Soothe Your Mind and Soul in the Geothermal Pools
One must have experience when you visit Iceland is to take a dip in a geothermal pool. Thanks to its active geology, Iceland has a great deal of natural, heated geothermal water. Perfect for swimming pools. In the various towns and villages, there are over 120 municipal baths and pools. Each one has its own unique characteristics and charms to offer. Not to mention the natural hot springs, mountain pools, and rivers.
Reason to Visit:
To add a calm moment of pure relaxation and rest bite to your trip. The perfect start to your vacation after a long journey.
Of all the geothermal pools in Iceland, Blue Lagoon is the most famous. It offers a steamy, dreamy spa experience that hat captures the true ethereal feel of Iceland. Explore using small wooden bridges that criss-cross across the blue-white waters.
Discover the sauna, tucked away as it's carved into the lava. There's also a might waterfall to enjoy, it's powerful water massaging away the tension. If you want something even more unique try to explore lesser-known pools and spas. Some more complexes to consider are Mývatn Nature Baths and Nauthólsvik Geothermal Beach.
Accommodation Picks:
If you choose to visit the Blue Lagoon, why not try out their Retreat Hotel on-site? With activities like yoga sessions and group hikes, you'll keep active. All while surrounded by the calm serenity of the steam lagoon waters.
For Mývatn Nature Baths, check out Dimmuborgir Guesthouse, which is only 10 minutes by car. You'll have a self-catering cottage in the form of a quaint log cabin. All the comfort you need, with the freedom to do as you please.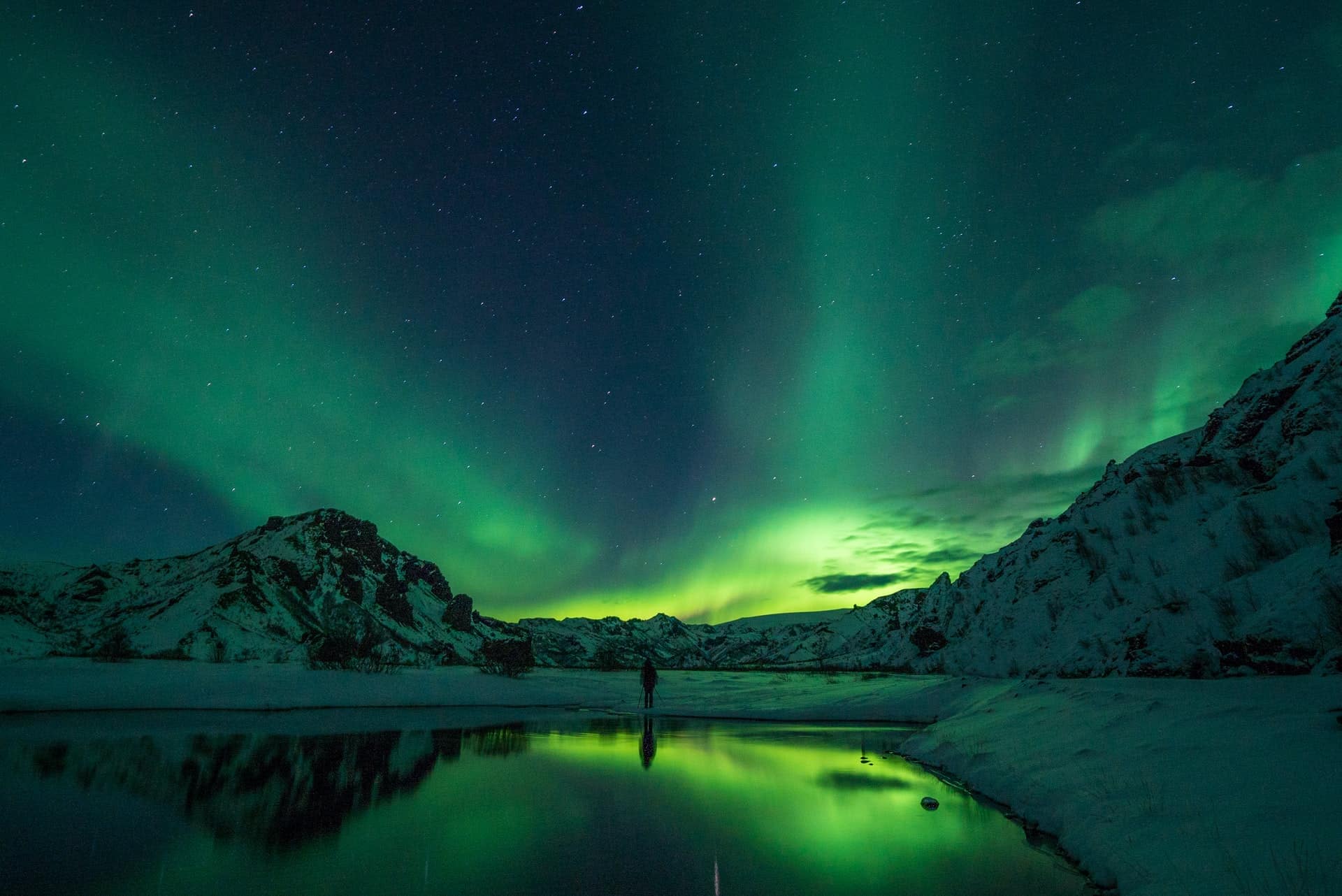 2. See the Northern Lights
Any Iceland Vacation wouldn't be complete without a trip to see the northern lights. A bewitching sight: flashing and flickering across the winter skyline. These green, pink and purple lights have captured the imagination through the ages.
For example, Vikings believed it was the Valkyries as they rode across the night sky. What actually causes the lights is a solar wind; charged particles that flare from the sun into space. When this wind touches our Earth's magnetic field, it's drawn towards the two poles. There, the electrical charge stirs up nitrogen and oxygen, making them glow.
If your Icelandic trip falls in the winter, it's one of the most unique things to do in Iceland. You can usually see them between September/October and March/April. Midnight is the best time of day to catch a glimpse.
Reason to Visit:
It will take your breath away and give you memories you'll never forget. Capturing the truly wild, unpredictable beauty of Iceland. The further north in Iceland you go, the longer the night lasts. This gives you a greater chance of seeing the lights.
Accommodation Picks:
Most of the hotels in Iceland offer a northern lights wake-up service. For the best chance, the capital of the north, Akureyri is one of the the best place to base yourself. Skjaldarvík Guesthouse and Hótel Sveinbjarnargerdi are great choices. Each offers individual, spacious rooms with unique and intriguing decor. If you plan on staying closer to Reykjavik or in the western part of the island, Hótel Húsafell should be on top of your list. Located in the remote wilderness of West Iceland and named by FORBES magazine one of the world's best hotels to experience the Northern Lights.
3. Explore the Glaciers and Landscapes
Despite the heat radiating from the ground, Iceland is a country shaped by cold. Ice Age glaciers gouged out fjords, cutting into the north, east and west coasts. They took the country's mountains and sharped their edges like a blade.
Nowadays, the glaciers are retreating and only 11% of Iceland's landmass is ice. Warmer temperatures have revealed land that no one has caught a glimpse of since the 16th century.
Reason to Visit:
To add an active element to your vacation in a land that is unlike any other you're likely to see. Especially great for adventurers and those who like to explore the wilderness. Visit the frozen torrents at Snæfellsjökull National Park and Skaftafell.
In the summer, you can go for guided walks on most of the glaciers in Iceland. Make sure you pack warm clothing and comfortable hiking boots though. Guides will provide the crampons and ice axes as well as glacier walking tips and techniques.
Accommodation Picks:
If you're looking for a view that will take your breath away as much as your vacation, pick Hotel Skaftafell. You'll get views stretching across the:
Highest mountain in Iceland: Hvannadalshnjukur
Largest glacier in the whole of Europe: Vatnajökull
If you want to be closer to Snæfellsjókull National Park, consider Kleifar: Ocean View Apartments. As the name suggests, you'll get ocean views where you can sit and watch for seals bobbing on the surface. With trendy, modern decor you'll feel at home. They even offer free bikes to go out and explore your local area.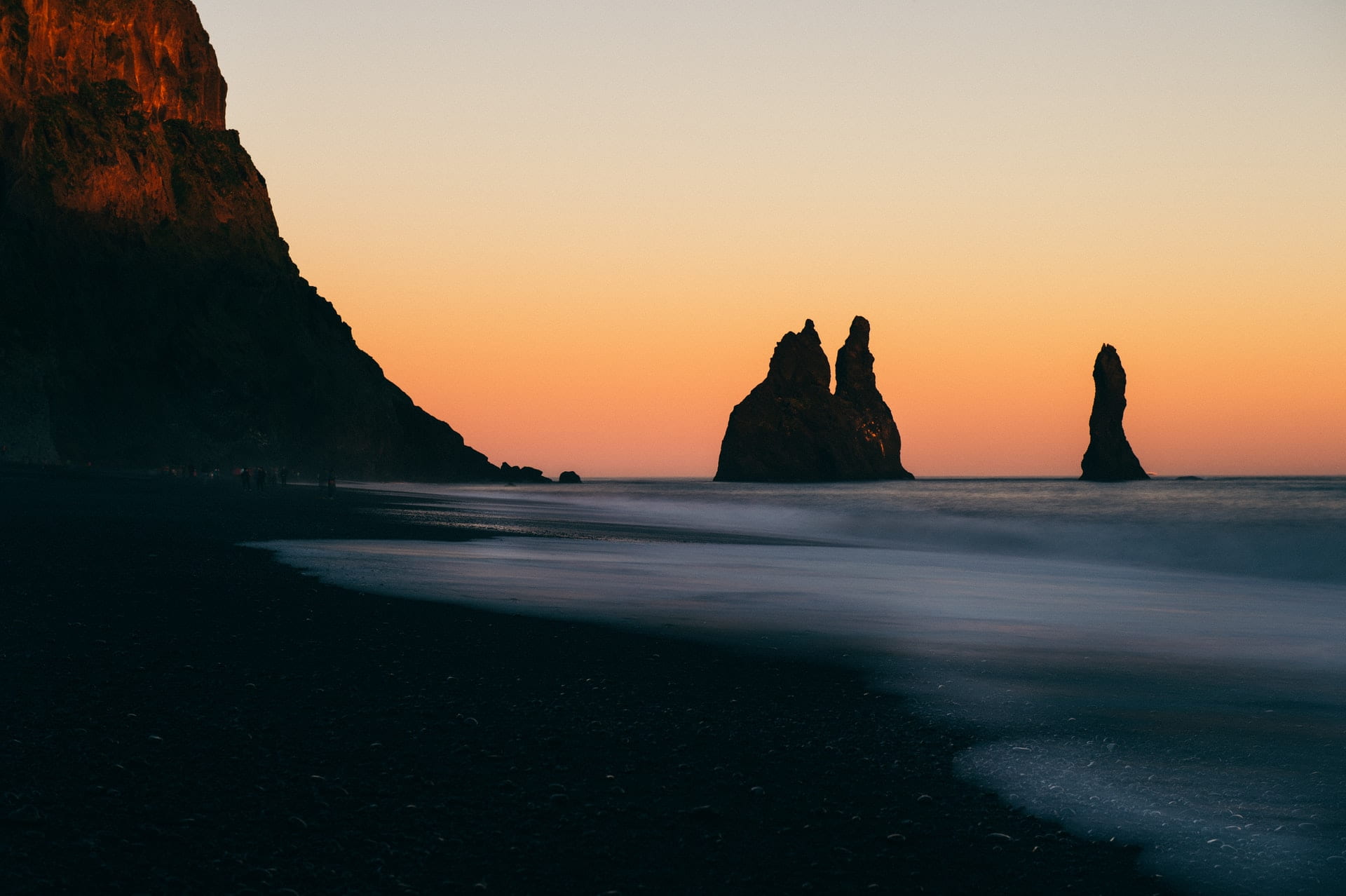 4. Walk on Black Sand
Near Vík on the south coast, the North Atlantic waves crash against a dramatic line of black sand. It's known as Reynisfjara beach and is famous for its basalt columns and ink-black pebbles. A lava flow created the beach as it reached the ocean, the water cooling it down stopping the flow. The wind might try to knock you down, but it's a marvel to know that there is no land between you and the Antarctic.
Reason to Visit:
To enjoy a shoreline walk on a beach unlike any other. Where the sand and pebbles are as black as the night, and the weather wild and wicked. Looking out to see you'll see three steeples known as Reynisdrangar.
Legends say they were trolls, turned to stone as they pulled their ship to shore. Something more fearsome than stone trolls though is the arctic turns. Aggressive in nature, Vík has one of the largest breeding colonies in Iceland.
Accommodation Picks:
If you want a cozy feel as the coast rages outside, stay at Prestshús 2 Guesthouse or Guesthouse Carina. With the beach within walking distance, you'll have great access and a place to relax and listen to the weather outside.
5. View the Wildlife
Adding a trip to get to know local Icelandic wildlife is sure not to disappoint. You can go whale watching in Húsavík, check out the puffin colonies, or even ride the unique Icelandic horse.
Reason to Visit:
If you're a wildlife enthusiast or want to see something different, this is the activity for you. Whale watching is one of the best activities to try out in Iceland, and it's gaining popularity.
Boats take people out all year round with a sighting success rate of around 90% in summer. This is due to baleen whales migrating north to feed. The calmer seas make it easier to spot them on their journey. The waters around Iceland are actually home to 23 cetacean species.
You're most likely to spot white-beaked dolphins, minke, humpbacks, or harbor porpoises. If you're lucky though, you'll spot killer, sperm, blue, sei, and fin whales.
If you're looking for birdwatching, the best time is late April – early June. Here, around 270 species flock back to their breeding grounds in Iceland. Some common species include:
Gannets
Puffins
Gulls
Razorbills
Guillemots
All jostling for their spot on the ledges in what is the world's largest colony of seabirds. Látrabjarg in the West Fjords is the largest cliff colony in the whole of Europe. With thousands of puffins and guillemots, it's also the largest razorbill colony in the world.
If you want to explore the rugged terrain, Icelandic horse riding is the best way to do it. This hardy breed can go where even jeeps can't. You'll explore deserted mountains and valleys, getting a sense of how the ancient Icelandic people lived and traveled.
The Icelandic horse comes from a sturdy breed that the Vikings brought over. They're famous for their unique fifth gait called the smooth tölt. If you've got the stomach and balance for it, a horse riding tour is a great, unique way to explore the landscape.
Accommodation Picks:
In Húsavík, the Húsavík Green Hostel is a great choice. It offers a garden terrace with BBQ facilities making it great for hanging out between excursions. By Látrabjarg, look up Hotel Látrabjarg. Friendly, welcoming, and family-run, their hotel serves up local produce. It's a great place to stay for that authentic Icelandic feel.
6. View the Golden Circle
For those with an adventurous streak, Iceland could be the ultimate nature vacation. Drinking water comes from pure glaciers and the fish come from unpolluted water. The cattle graze land that's never needed to see fertilizer.
With many moving close to the capital of Reykjavík, large parts of the countryside are quite deserted. There is a sense of untouched rawness to the landscape. Lava fields steam, hot pools, and geysers erupt, glaciers and icecaps gleam in the light. Once you've seen it, it'll be impossible to forget.
Reason to Visit:
The rich farmland in the south is the place to start your vacation. You can base yourself out of Reykjavík with ease, being close to most of the popular attractions. These are the Golden Circle. You've got Gullfoss, the dramatic waterfall and natural amphitheater of Þingvellir. Last but not least there are the natural hot springs and geysers at Geysir.
Accommodation Picks:
With the Golden Circle a popular destination, you've got some tried and tested places to stay. These include trendy guesthouses like Brekkugerdi Guesthouse. If you want unique character, there are Úthlíd Cottages with their quaint wooden chalets.
There's also Klettar Tower Iceland offering accommodation in an old grass storage tower. The bedrooms are as cool as it gets, and the lounge upstairs has panoramic views for miles.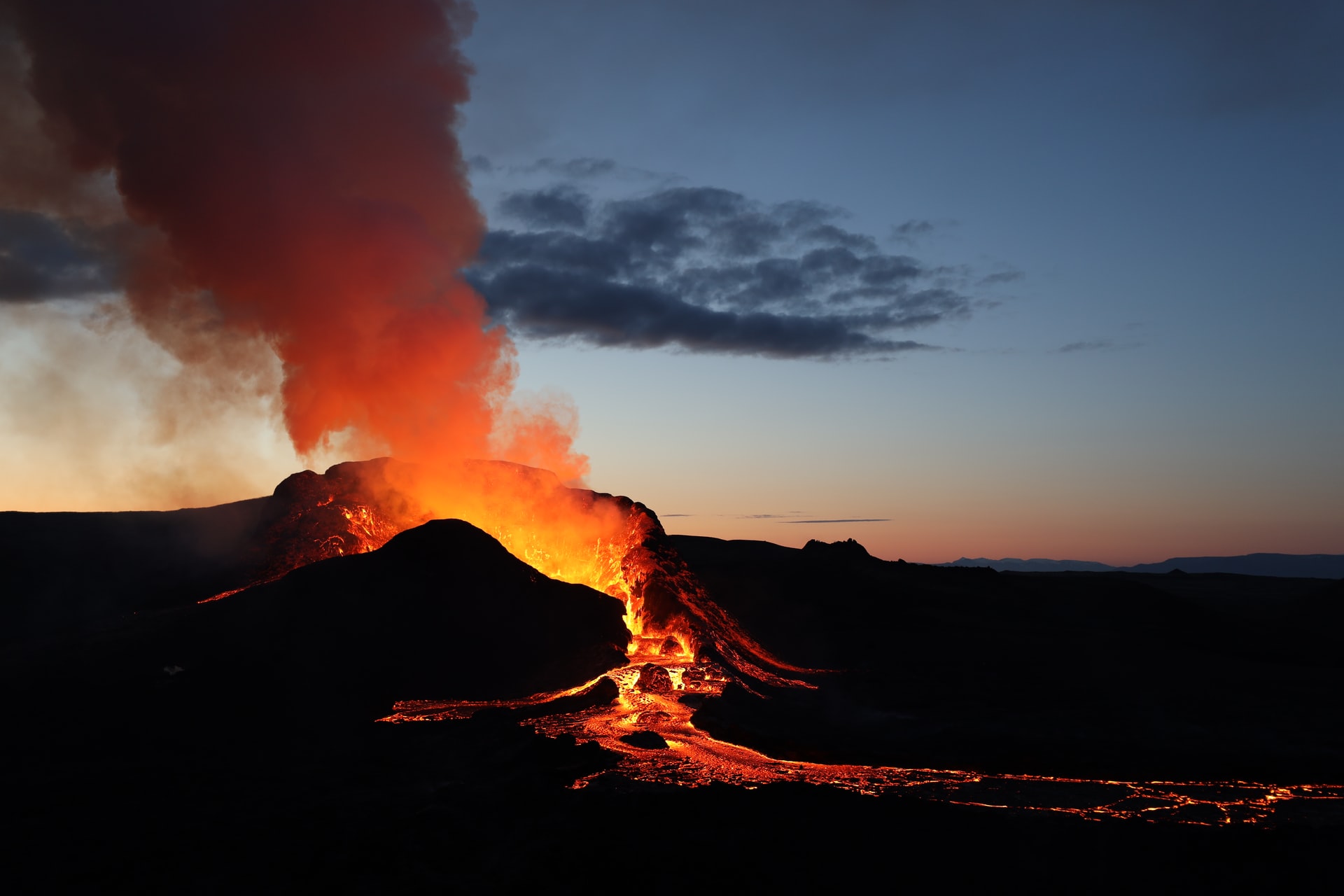 7. See Active Volcanoes
The Mid-Atlantic Ridge runs right across the island from southwest to northwest You can visit the rift between the two tectonic plates, and can even go snorkeling in it. A scar of volcanic craters marks the landscape. As do steam and hot springs, solfataras, and earthquakes. Iceland has over 100 volcanoes, and 35 of them have had activity over the last 10,000 years. This marks them as active.
In recent years, it's about once every 5 years that Iceland experiences an eruption. Most cause little damage and are on a smaller scale. Others present more of a threat with evacuations and ash clouds shutting air traffic.
Reason to Visit:
To see a landscape that looks like it could be on another planet. It's a landscape you'll never forget, seared into your mind, full of mystery and intrigue.
Heimaey is worth visiting with the main town positioned atop an active volcano. In 1973, a mile-long fissure opened up with no warning, sending a wall of lava towards town. Due to the entire fishing fleet docking for the night the whole town could evacuate and no one lost their life.
In the span of 5 months, 33 million tonnes of lava spewed forth. Ash and lava buried one-third of the town. By July, people could come back to rebuild. The island grew by 2.2 square kilometers and now had Eldfell, a new mountain.
To see the effects of a more recent eruption, head to the Mó∂i and Magni craters. Named after Thor's sons, these came from the 2010 eruption of Eyjafjallajökull. Europe's air traffic couldn't move for 6 days. Everything for miles around has a coating of thick, grey ash. It was the largest air-traffic shutdown since WW11.
Accommodation Picks:
If you're checking out Heimaey, visit Guesthouse Árný. Close to all the local amenities, the owner is friendly and helpful. Able to point you in the right direction to make the most of your stay.
Things to Do in Iceland You Won't Want to Miss
So, there you have it! Now you know these top unique things to do in Iceland to make your trip one of a lifetime.
Iceland is unlike any place on earth you'll ever visit, it's a unique gem not to miss. Whether you're a keen wildlife spotter, an outdoor enthusiast, or looking to pamper yourself with a view, there's something for everyone.
If you're planning on traveling around Iceland, hire a car to make your journey easier. At Circle Car Rental, we've got the perfect vehicle to suit all your Icelandic vacation needs.